​The University of Craiova left the National Arena with a point in the match with FCSB (1-1), and Andrii Ivan summarized the results of the game and also talked about the fact that he will not be called up to the national team of Romania.
Andriy Ivan
Photo: Flaviu Buboi/NurPhoto/Shutterstock Editorial/Profimedia
>>> Emotions from Edi Yordenescu – Tricolor got injured and may miss the match with Andorra
Andrii Ivan disappointed not to be called up by Edi Iordenescu – Romania to face Andorra and Belarus
Andrii Ivan had a pretty good evolution in the trip with FCSB and the Craiova University footballer believes the result was fair despite Olteni's solid first half.
"A very good first half from us. I don't think we gave the FCSB guys a chance. In the second half I think we came out on top and FCSB had a good 25 minutes and tied us. We walked in relaxed and it showed on the table.
We hope to take 3 points in the next match. No one gives us a chance for the title, we go step by step. I think we are there, four points away from first place." – said Andrii Ivan.
In addition, the football player of the team coached by Yevhen Nyagoe also talked about the situation in the national team.
>>> Romania's squad for the games with Andorra and Belarus in the Euro 2024 qualifying tournament – Edi Iordenescu prepared surprises
Ivan was not called up by Edi Yordenescu for the matches of the Euro-2024 qualifying tournament with Andorra and Belarus, which caused the player great disappointment.
"To be honest, I don't want to say anything about the selector, it's his decision. To be honest, I expected to get into the national team, I'm in shape, I scored 6 goals. I didn't make a scandal, I didn't comment on anyone from the selection staff, I'm telling you honestly.
I was sent to the stands for the match against Montenegro. No one talked to me. You are in the national team, no one should say "well, you are not in the team". I wasn't upset, because I wasn't with Finland and I wasn't upset either.
I expected someone to come and tell me I wasn't in the group. The last time I talked to someone from the national team was when I was in Turkey for a training session. So I thought that I would be called. Yes, it's frustrating, I wish I was there.
I think if I record match by match, it will be impossible not to call me. I have no one to apologize to. It doesn't affect me, I trained well, I was disciplined, not like they said. I don't think I have any enemies. Believe me, I don't know anything, I would tell you if there were problems." – summed up Andrii Ivan, reports Digi Sport.
Tournament table of the Super League playoffs
1. Constanta Lighthouse 32p
2. CFR Cluj 32p
3. FCSB 30p
4. University of Kraiów 28 p
5. Rapid Bucharest 26b
6. Sepsis OSK 21s
Darius Olaru and the explanation of the very poor performance in the match against the University of Craiova
Source: Hot News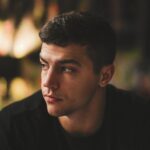 David Jack is a sports author at 247 News Reel, known for his informative writing on sports topics. With extensive knowledge and experience, he provides readers with a deep understanding of the latest sports advancements and trends. David's insightful articles have earned him a reputation as a skilled and reliable writer.