Detective Monk's story is back, this time in movies rather than TV series.
The film is expected to be screened by US streaming service Peacock. It's essentially a reunion as the project will feature the main cast and creators, according to Variety.
Lead character Tony Salub will once again play Adrian Monk, a detective who suffers from obsessive-compulsive disorder and suffers from multiple phobias.
Other returning cast members include Ted Levine (Leland Stottlemeyer), Traylor Howard (Natalie Tiger), Jason Gray-Stanford (Randy Disher), Melora Hardin (Trudy Monk), and Hector Elizondo as Dr. Wilson. Niven Bell.
The project is called Mr. Monk's Last Case: A Film About Monks. The story follows the detective in solving a final and "very personal case involving a journalist and his beloved stepdaughter, Molly, who is preparing for her wedding."
Series creator Andy Breckman is writing and producing the film, with Shalhoub not only starring but also producing.
This is not the first time in recent years that the actors have reunited. In May 2020, Saloub, Howard, Levin and Grey-Stanford were cast in a short play called "Mr. Rose". The monks' shelters are in place."
Detective Monk originally aired on the USA Network. The series ran for eight seasons and consisted of 125 episodes. The finale of the police series, which was presented in 2009, was a great success. In total, Monk won 8 Primetime Emmys, including three for Outstanding Lead Actor in a Comedy Series for Shaloub.
According to Variety
Source: Kathimerini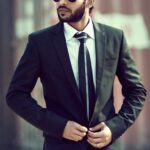 Joseph Wages is an entertainment journalist, known for his unique and engaging writing style. He currently works at 247 News Reel, where he covers the latest in entertainment news and provides in-depth analysis on the film, television, and music industries. With a keen eye for detail and a love for all things entertainment, Joseph's writing is both informative and entertaining. Follow Joseph for the latest entertainment industry updates and behind-the-scenes insights.